D&B Credit Advantage
D&B Credit Advantage allows you to personalize how D&B Credit fits your Credit Management processes. Import your global accounts receivables data to combine your data with the latest Dun & Bradstreet business information and analytics. Importing your global customer base provides you an analysis of your customers and which customer accounts are matched to the D&B database. Identify debt that is at high risk of delayed payments through flexible portfolio wide aging reports. You can also prioritize collections, activities, and debt provisioning, or identify low risk customers that have the potential to support an extended credit capacity. Flexible portfolio wide aging reports. View a company report to see your current relationship with any credit applicant as well as their payment history. If a customer submits a credit application, these reports allow you to make an informed decision based on their outstanding debt.
Preparing Your Files for Upload
You can provide us with an Accounts Receivable file (.csv only) of companies to load in bulk and quickly create a live portfolio. Your files must be properly formatted to ensure an error-free upload. Each account can be assigned up to 5 tags for portfolio segmentation and account identification. The file can contain full global coverage and any currency or mixed currencies. If no currency is indicated, the default currency of the subscriber is used. Each account can be assigned up to 5 tags for portfolio segmentation and account identification.
When adding in bulk, you can specify which tags you want to append to each company to enable personalized portfolio segmentation and alerting. Live Portfolio data and alerting is available on all of the following companies:

Additionally, all of your global accounts matched to a D-U-N-S Number can be uploaded and tagged to provide a complete, segmented aged debt view. Unmatched accounts will also be uploaded to your portfolio.
Uploading Your Accounts Receivable Data
The Data Import page will display the imported files that have been uploaded, how many records were included, which files have been unmatched, which files have not been processed, and an overall file status, along with a more detailed audit report that can be downloaded.
NOTE: The Data Import page is only available to Administrators and Credit Managers.

To bulk upload data into the Portfolio:
Click the Tools tab.
Expand Data Management from left navigation and select Data Import.
Click Import New File to select accounts you would like to upload.
Optional - Click Download A/R Template for a sample file layout and a list of all accepted Country/Region and currency codes.
Optional - Select My File Has Headers if the file you imported includes column headers.
Optional - Select Set Excluded Account Balances to Zero to set all existing accounts that are not in the new file to zero balance, assuming that those accounts now have no outstanding debt.

NOTE: If your upload contains German Companies, select a reason for adding the German companies to your portfolio.

Select a Source/Ledger to label the uploaded accounts.

Optional - Click Add New Source/Ledger if the desired option is not listed in the drop-down.

NOTE: Source/Ledger is required to uniquely identify accounts. If you have different back-ends and there is a chance of the same account number being used in different systems, you can use a source/ledger label so that accounts will be uniquely identified.

Click Continue. The File Mapping panel will display.

Optional - Select Apply Standard Template Mapping if the imported file has the same column layout as the standard template.

Select the desired mappings from the drop-downs.

NOTE: Account Number, Company Name, and Country/Region Code are required mappings.

Click Process File.

Records of uploads will display on the Data Import page.
Deleting Accounts
Accounts can be deleted when they have been uploaded in error, matched with a D-U-N-S Number you wish to change, or are no longer required to be included in your portfolio.
If you know which accounts you want to delete, you can import a file of the accounts and tag them with an identifiable tag such as To Delete. After importing the file, you can filter on the tag you created, select all, and confirm the deletion.
NOTE: This functionality is available for Credit Managers and System Administrators.
To delete accounts:
Click Tools.
Expand the Data Management tab on the left and click Accounts.
Use the Filter button to display desired accounts based off of their Tags or Source/ Ledger.
Select the desired accounts.

NOTE: You can select individual accounts or use the select all box to select all visible accounts on the page you are viewing. When you click the select all box and have a filter applied, the Select all filtered accounts link will appear with the number of accounts that apply to that filter. You can use this link to select all accounts that match your filter.

Click Delete.
Check the boxes to confirm the delete action.
Manually Matching Accounts
You can manually match accounts that were unmatched or matched to the wrong D-U-N-S Number.
To manually match unmatched accounts:
Click Portfolio.
Scroll down to the Unmatched row within the Risk Breakdown matrix.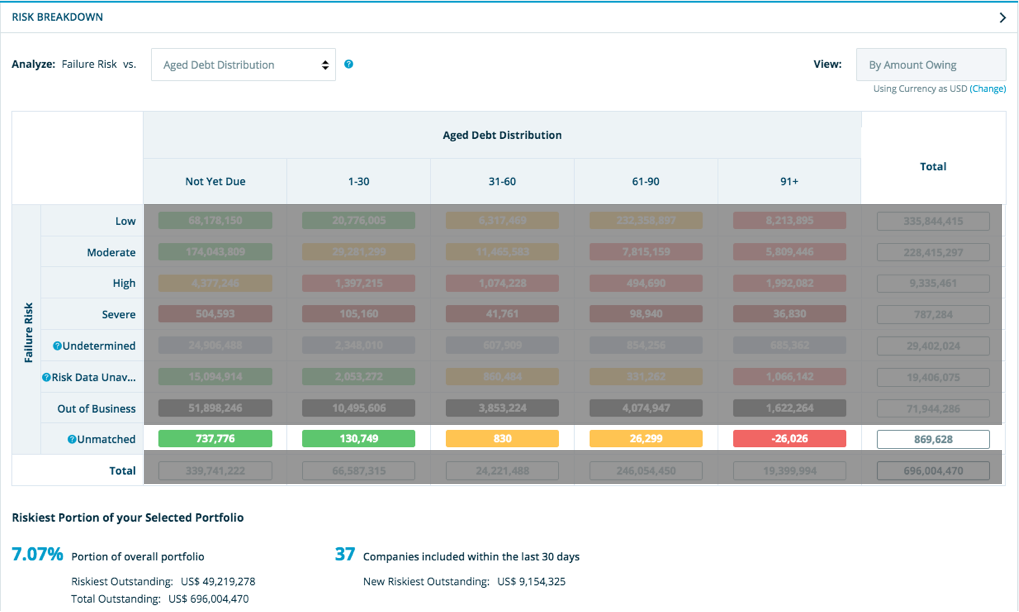 Common Errors in Uploaded File
A submitted file is immediately validated to identify basic issues that will stop the file processing. If any errors are found, they are reported back indicating which accounts have problems. The file must then be corrected and re-submitted.
Some common upload errors include the following:
Account Number, Business Name, and Country/Region Code must be provided.
Date must be the same format as the subscriber's Country/Region format.
ISO codes for Country/Region and Currency must be valid.
Data type for Currency, Date, and Numbers must be valid.
Duplicate records cannot have the same account number.
Date of aging cannot be future dated.
File size cannot exceed 100MB.
The uploaded file will then go through a process to match to companies in D&B database and append D-U-N-S Numbers. All records, whether successfully matched to a company or not will be loaded into your portfolio. This process can take up to 3 days.
If you face difficulty uploading your file, you can submit the file to Customer Care. To do so, you can:
Click Contact Customer Care and submit your file. It will be formatted by the Customer Care team, then returned to you for upload.
If problems still persist, Customer Care can also upload the file on your behalf.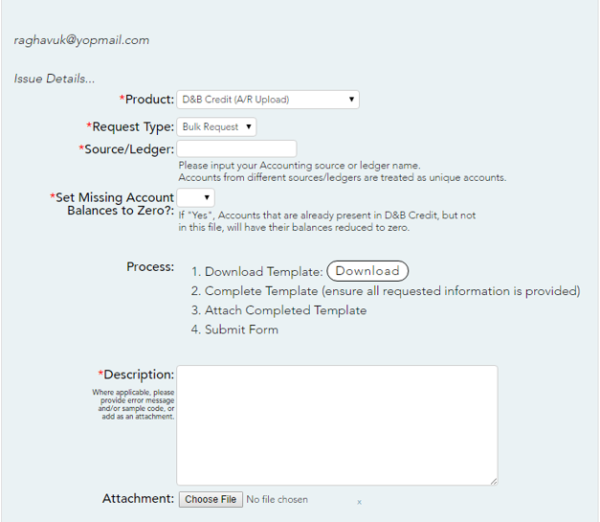 Managing Accounts Receivable
D&B Credit Advantage allows you to import your global Accounts Receivables data from one or more back-end systems. By matching your accounts to our proprietary D-U-N-S Number, we can provide insight into the relationship between accounts, locations, and companies across ledgers. This compares total exposure and aging with predicted failure or delinquency risk and prior payment performance of companies across your whole portfolio.
Your full portfolio of accounts, whether matched to a D-U-N-S Number or not, is analyzed and displayed on the Portfolio Overview dashboard. The default view shows aged debt against predicted failure risk, allowing you to identify high-risk, late-paying companies versus prompt-paying , low-risk companies.
This analysis can be customized to:
View risk by alternate indicators such as Delinquency or Payment Performance.
Swap Total Outstanding with Number of Customers. This displays the risk of current non-spending customers.
You can hover over any dashboard cell to see company summaries, accounts, amounts owing, and amounts overdue. Click through to identify additional account information, recommendations, risk assessments and the companies included in the analysis in Portfolio List Views.
List Views display:
The number of accounts linked to each company
The total amounts owing
Amounts overdue
See Viewing Your Portfolio to gain a better understanding of your Portfolio capabilities.
More account details can be quickly viewed by expanding the row (click

). The company report can also be viewed in full detail, including all linked accounts with aging summaries. Additionally, the Risk Distribution charts display an overview of total owing in all risk levels by all scores.
See Viewing a Report to gain a better understanding of your Report capabilities.