Migrating from DNBi
To help familiarize you with your D&B Credit workspace, we have highlighted below what data has migrated from your previous Risk Management product and where to locate your data in D&B Credit.
Migration of Your Data
The data migration includes the following:
All active users:

The same DNBi profile (i.e., System Administrator or User) will be assigned.

User-created and system folders will be converted into tags.

The All Credit Files folder will be converted into the All Portfolio Companies tag.
The My Companies folder will be converted into a tag with the same name and your user ID as a prefix; e.g., user1@dnb.com_MyCompanies.
Companies that have not been saved to a folder aside from the All Credit Files folder will be assigned to the Untagged tag.

Companies saved to folders.

All companies that are branches in DNBi will automatically be traded up to the headquarter in D&B Credit. If the headquarters was not saved to a folder in DNBi or only saved to the All Credit File folder, it will be assigned an Untagged tag in D&B Credit.

Static reports purchased or viewed in the last 24 months.
Snapshots created or viewed in the last 24 months.
NOTE: Future enhancements will include migrating applications and credit decisions from Decision Maker, account reviews from Account Manager, and notes saved to credit reports.
Finding Your Way Around
Your new D&B Credit interface includes quickly navigable credit reports and customizable portfolio views. Core workflows performed in DNBi have been aligned in D&B Credit in the following sections: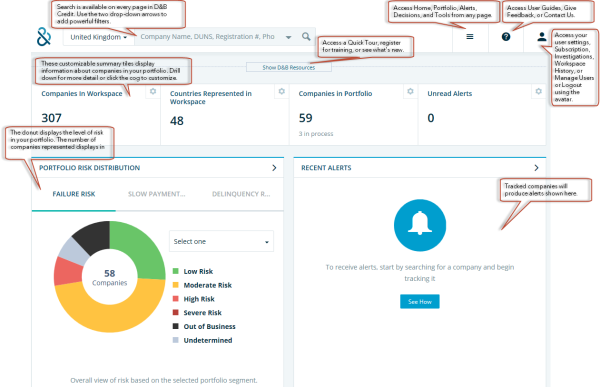 Home Page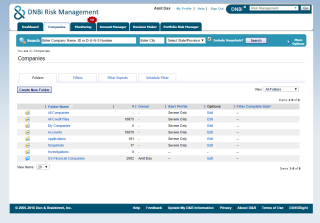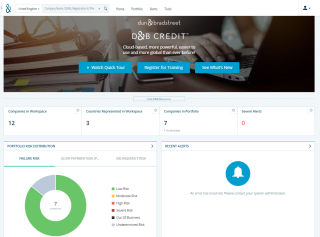 D&B Credit's Homepage has consolidated the DNBi Dashboard information into a more modern user experience. The top section of the homepage provides a resource panel giving access to the features' tips and tricks while also allowing you to register for any available training sessions or live webinars. The homepage also contains the Key Data Elements panel that displays information regarding your workspace; the panel can be customized to display the data you desire.
DNBi's dashboard display of riskiest companies and overall risk distribution has been improved through D&B Credit's various risk analyses. Use the pie graphs to see several different risk analyses of the companies in your portfolio. Click the sections displayed on the graph for more information about the selected risk levels.
The Recent Alerts Panel on the D&B Credit homepage provides a quick view of your unread, severe, and starred alerts. You can access the alert details right from the homepage. Click the panel header for more information.
NOTE: Click on any of the panel headers on the homepage to see more information about the selected sections.
See Getting Started to gain a better understanding of your Homepage capabilities.
Search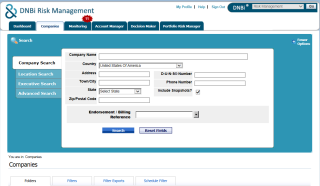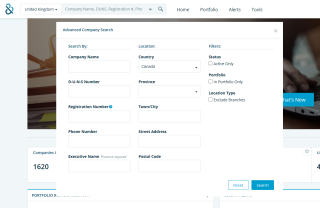 The Search feature in D&B Credit has been thoughtfully designed to facilitate the user's experience by having a search box available on top of every page.
Conducting an Advanced Search has also been made easier through the quick drop-down arrow which provides all the available search criteria on one screen.
While DNBi's Search contains a segmented search box that performs three types of searches to find a credit report (Company Search, Location Search, Executive Search), D&B Credit has a multilayer search that provides results based on any or all criteria available in the D&B Credit Advanced Search option and apply bonus filters as well.
Search results in DNBi display as a text-filled list and show a small preview of the company's profile without allowing you to filter the list. DNBi also requires that the user manually add selected companies to folders. Within D&B Credit, the search results are clean and easy to peruse. The preview link is expandable, providing significantly more details, and it contains icons which indicate whether the company is already in your portfolio and how many tags are assigned to that company. The most convenient addition to the D&B Credit search results is the filter panel. You are now able to filter the results by different criteria allowing a more targeted view. If you cannot find what you are searching for, you can order an investigation by clicking the link at the top of the results page.
See Search for a Company to gain a better understanding of your Search capabilities.
Reports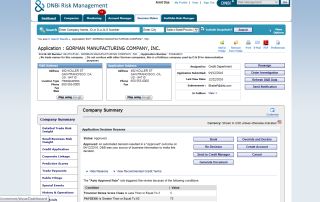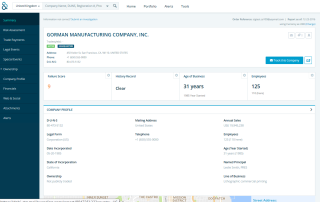 Ordering Reports is one of the most important features in your work flow. Both DNBi and D&B Credit offer live reports in the search results. However, D&B Credit's reports offer a more modern layout, as well as, access to new analytics such as:
Overall Business Risk Assessment which takes all the best available scores and gives you a clear assessment.
Maximum Credit Recommendation which suggests the highest credit amount that should be extended to the organization. Unlike DNBi, the Maximum Credit Recommendation does not have a maximum amount of $1M.
The family tree in D&B Credit is robust but also empowers you to navigate with ease. The major data points and the family tree hierarchy display in an easy-to-use structure that includes the portfolio icons for any businesses you are tracking with tags such as: business type, company name, location, Country/Region flag, excluding branches, and excluding filters. You may also click on any company for more information, search for a company by name, choose tree depth or Country/Region, or find which companies within the family tree are already in your portfolio.
Export, print, or snapshot a report by clicking the ellipses in the top right section of the report to Track this Company/Tracking button.
See Viewing a Report to gain a better understanding of your Report contents.
Organizing Files
D&B Credit provides powerful tools for organizing the files of customers and suppliers. DNBi's folders have been replaced with Tags.
To organize and monitor companies in D&B Credit, click Track this Company, and choose to add one or more Tags. A Tag is similar to adding a company to a folder, but easier, more versatile, and more integrated. Instead of using DNBi's Companies tab to manage folders, you can use a more robust Portfolio feature in D&B Credit that allows you to view the tracked and tagged D-U-N-S Numbers in various customizable portfolio views without purchasing additional modules. You can also receive alerts based on a segment of companies defined by your tags.
D&B credit's Tools tab is a customization station and foundation for organizing your files the way you want. Begin managing your files by creating your Tags, Alert Profiles, and Saved Filters here before you start tracking companies. Customizing Tags and Filters within the Tools tab is the easiest and fastest way to find and manage the companies you need to monitor.
Within D&B Credit's Portfolio - By Tag, you can see the number of tags available for your portfolio. Use Filters to pinpoint your targeted companies in all of the views within the Portfolio. Tags are listed in the first column. You can see the number of companies for each tag along with average risk scores. Click on any tag row to see all of the companies with the selected tag; this is the same as opening up a categorized folder within DNBi.
See Defining Your Portfolio to gain a better understanding of your Tags and Filters capabilities.
Portfolio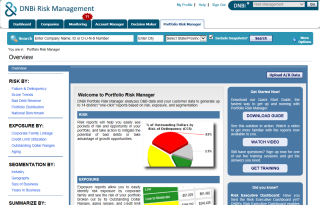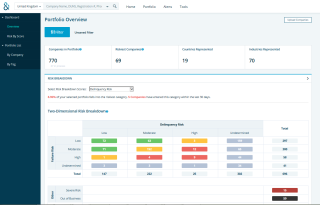 In DNBi companies in your portfolio were managed through the Companies and Portfolio Risk Manager tabs. DNBi's Companies tab displayed the list of companies in your folders while offered the Portfolio Risk Manager tab was an add-on module that provided portfolio views in charts or tables. In D&B Credit, Portfolio is available to all users. Like DNBi's Portfolio Risk Manager, D&B Credit's Portfolio displays portfolio level risks with filtering capabilities and more. However, D&B Credit's Portfolio is cleaner, easier to navigate, contains graphics that more easily highlight risk and opportunities, and provides more insightful risk analysis.
Within Portfolio's left navigation, you can select Overview to see a summary of the companies you track or specify a certain view of risk by selecting Risk by Score. There are also the By Company, and By Tag views to show more details regarding the entire portfolio or just segment.
Filtering offers more options for browsing the data to find needed information. Select a previously saved filter or create a new filter by using any or all of the following criteria: Tags, Location, Industry, Credit Recommendation, and/or Risk Categories.
See Navigating Your Portfolio to gain a better understanding of your portfolio capabilities and content.
Alerts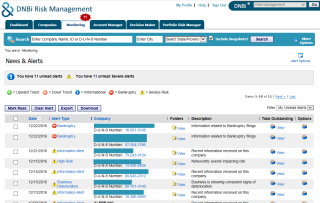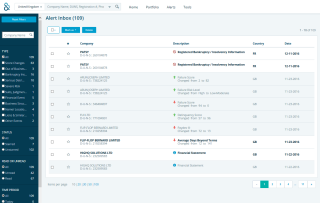 The D&B Credit Alerts tab helps automatically monitor companies in your portfolio. The Alert Filters on the left navigation can focus your alerts on important events. Customize your alerts in the Tools tab, which equates to DNBi's Alerts tab. Within D&B Credit's Tools - Alert Profiles, you can choose the alerts you'd like to be notified of and create new profiles.
To create a new alert profile, click Create New Profile, search for the alert name you want to be notified of, then add new rules and conditions. Check the Send E-mail box to be notified of alerts by e-mail.
Once the alert profile has been created, you can assign it to one or more tags to initiate monitoring.
See Configure Alerts to gain a better understanding of your monitoring capabilities.