D&B Credit Reporter
Make quick assessments of potential credit partners with easy-to-understand reports that provide an overview of a company's financial health. D&B Credit Reporter gives you the benefits of Dun & Bradstreet's market-leading data that best fits your needs.
NOTE: This page includes information about available benefits unique to the interface of D&B Credit Reporter customers.
Report Summary Chapter in Credit Reporter
The Summary chapter displays a brief overview of the chapters available within the credit report.
See Understanding the Summary Chapter for more details.
Company Header Panel In Credit Reporter
The Company Header panel displays a company profile with information such as: business name, status, address, phone, and D-U-N-S Number. The default information shown will vary depending on the location of the company.

You can also Export to PDF, Print, or Export to Financials by clicking on the ellipses (three dots).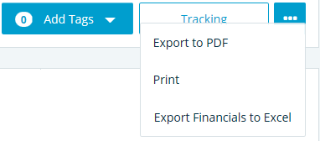 Key Data Elements In Credit Reporter
Key data elements in the Portfolio feature of D&B Credit Reporter provide added guidance to credit decisions:
Risk of Bad Debt Write-off
Cash Flow

Risk

Age of Business
Employees

Purchasing Additional Reports in D&B Credit Reporter
Purchase reports by contacting D&B Customer Sales at 1-800-249-4341.
Purchase reports by contacting D&B Customer Sales at 0800 001-234.
Viewing Workspace History in D&B Credit Reporter
Workspace History (Report History) is a shared history list of all businesses viewed within the workspace by any user from your company's D&B Credit account.